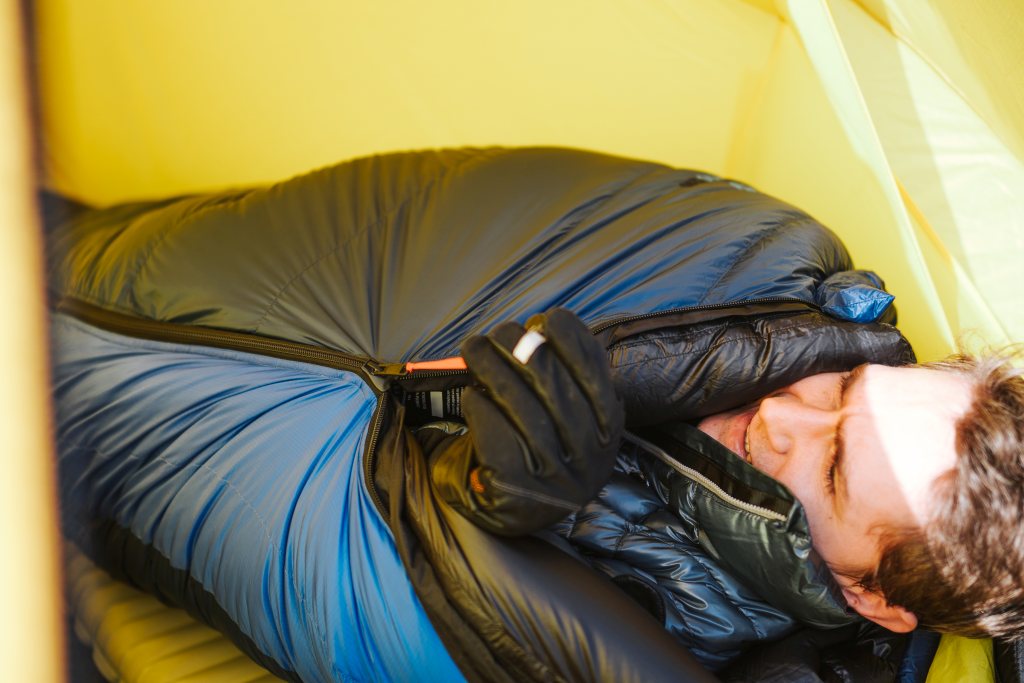 At any multi-day winter adventure the sleeping bag is a key piece of equipment. It will determine if you have a great night's sleep or if you suffer. In really tough conditions it can even make the difference between life and death. So, when it comes to your choice of sleeping bag you do not want to compromise. At the same time, for most adventures weight and space are important factors. You want that durability and warmth but you also want to save as much weight and space as possible. Cumulus has got sleeping bags that have these traits. That is why I am super happy to announce that the Polish company Cumulus is now our official partner for sleeping bags.
Every product that is designed at Cumulus has to be as light as possible. They use advanced technical solutions, world-class fabrics and constantly improve their manufacturing techniques to achieve this goal. Cumulus was founded in 1989 by Zdzisław Wylężek who knew about the superb qualities of Polish down. From the beginning, Cumulus has closely cooperated with PERTEX®. Combining their lightweight fabrics with Polish down, Cumulus started the production of quality sleeping bags. By now they are an internationally recognized brand used by outdoor professionals all over the world. They completely control the production, which is fully based in Poland and meet highest ethical standards.
The official MLAU sleeping bag is the Excuistic 1200. Cumulus have created the Excuistic series with polar and winter alpine expeditions in mind. In designing them they used not only their vast experience in the production of down sleeping bags, but we also carefully listened to the needs of users. All Excuistic bags are filled with 900 Fill Power best Polish goose down and made with the reliable, water resistant outer fabric PERTEX® Quantum Pro 36 g/m². The Excuistic 1200 has as many as 53 down chambers, and their arrangement in two layers minimises the risk of creating cold spots. The side panels, running along the length of the sleeping bag, further reduce the possibility of any migration of down and help to stabilise it where the risk of disturbing efficient insulation is the highest. The advanced design of the hood and of the foot box gives extra protection to the most vulnerable parts of the body. The hood is adjusted by elastic cords, and the long pullers on the sliders are easy to grab with thick gloves. The sleeping bag has two internal mesh pockets, thanks to which it is easier to manage the pockets' contents. The wider cut makes it possible to sleep in large expedition clothing and also to keep several items in it that most need protection from the cold. Cumulus have applied all these solutions while bearing in mind the need to keep the weight of the sleeping bag as low as possible, so that it still weighs only 2,145 g, of which 1,200 g is down.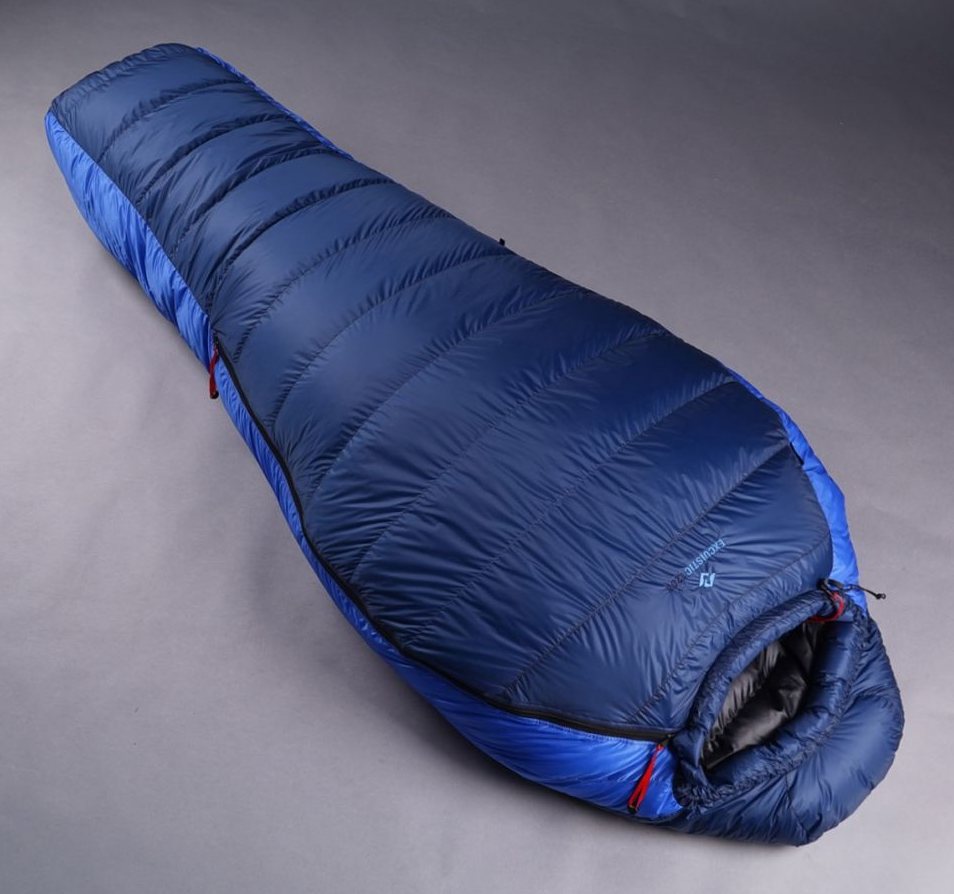 Cumulus Excuistic 1200 Features:
Fill: 900 Fill Power ethically sourced Polish goose down
Shell: Pertex® Quantum Pro 36 g/m², 20-denier ripstop, DWR finish (100% Nylon)
Liner: Pertex® Quantum 29 g/m², 15-denier ripstop, DWR finish (100% Nylon)
120 cm, 5 mm YKK® zip with 2 self-locking sliders
Zip slider with anti-snag system
Independently filled top and bottom of the sleeping bag
2 down-filled zip insulating tubes
Additional anti-snag tapes on zip insulating tubes
Mummy shape
Anatomically shaped hood with an advanced, 3D construction
Advanced foot area construction for better protection
Construction: Double H-shaped chamber design
Differencial cut design
Separately filled front and bottom
2 inner pockets for small items
Can be opened and ventilated
Can be combined with other Excuistic sleeping bags
Hang loops for storage and drying
Stuffsack and storage sack included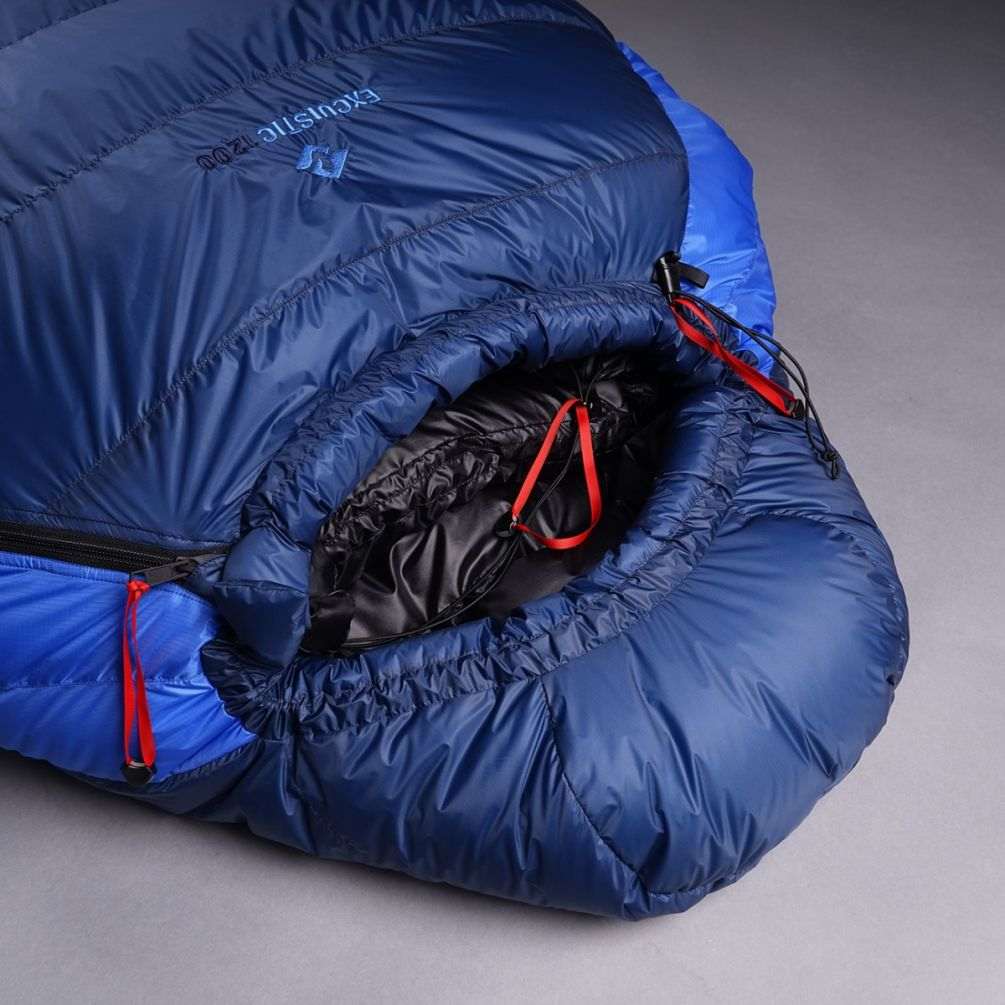 Cumulus Excuistic 1200 Specifications:
Down quality: 900 FP
Total weight: 1,920 g
Down weight: 1,200 g
Weight of unfilled sleeping bag: 720 g
Comfort temperature: -27 ℃
Limit temperature: -40 ℃
Extreme temperature: -62 ℃
Maximum user height: 192 cm
Length: 210 cm
Width (top/bottom): 87/60 cm
Stuffsack's dimension (height/diameter): 30/29 cm
Stuff sack's volume: 19 l
Number of down chambers: 53